More catchup
First off, my sweet niece as promised! She is so tiny and light; it's like holding a baby doll. We're planning to get together again this week; I can't wait to see her again.
This month I am getting a chance to guest for Kate Hadfield. She has such a fun, hand-doodled style and it is perfect for hybrid. I applied for her guest team in April and was so excited to get an email from her asking me to be her guest. I've been busily printing, cutting and gluing up a storm! Here's a card I made with some of her new doodles and a piece of cardboard I ripped off of one of the empty diaper boxes that I had. Of these, there always seems to be an endless supply; how I look forward to the day when I purchase the last pack of diapers!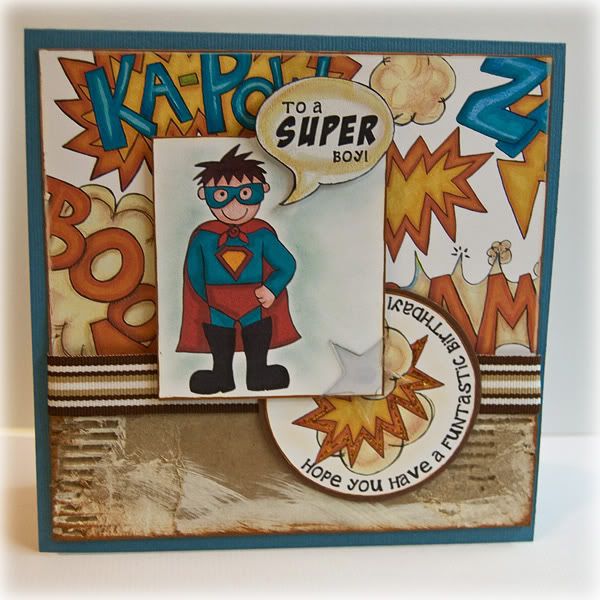 And this one is for Simon for Father's Day from the boys. The razor is kind of an inside joke... everytime a new razor comes out, I always want to try it out and I'm always asking Simon if he wouldn't like to try a new one, but of course he's totally happy with the one he has! Now I ooh and aah over the new ones just to make him laugh.

I'd seen the pattern for this somewhere on my blog travels, but I can't remember exactly where. After I'd creased and folded the cardstock, I measured out each piece that I would need and created a template in photoshop for them. I can't wait to see his face when the boys give it to him!
There's some more fun hybrid-ness coming up the end of this month over at the The Hybrid Chick... it's definitely baby season around The DigiChick with lots of the designers either expecting, or having just delivered their precious bundles of joy. The fun starts June 15, so be sure to stop by for some wonderful project ideas and even door prizes. I'm not quite sure what I'll be making yet, but I'm planning a trip to Michael's tomorrow to see what kind of fun things I can find to alter.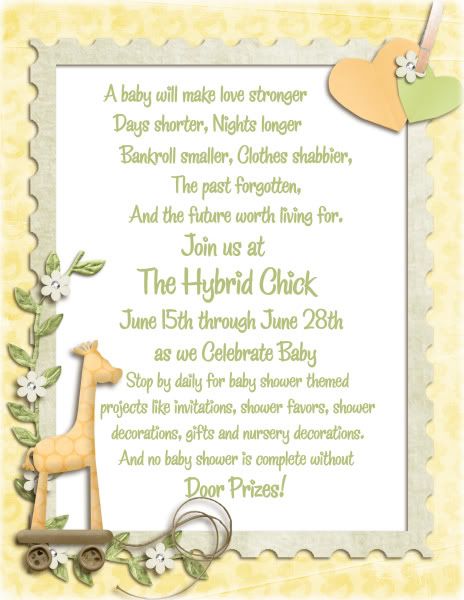 I added one more creative team last month; you can see my little FunkyPlayground Design blinkie over on the side there. They added lots of new designers at the beginning of the month so there's been all kinds of fun products to play with. Here's a couple of pages featuring James...
Another layout of James, this time with Creashen's Candid kit... that boy has the most expressive face! I'll never have to wonder what he's thinking. I know that he gets that from me though; I used to get in trouble without even having to say anything because my mom could see it all written on my face.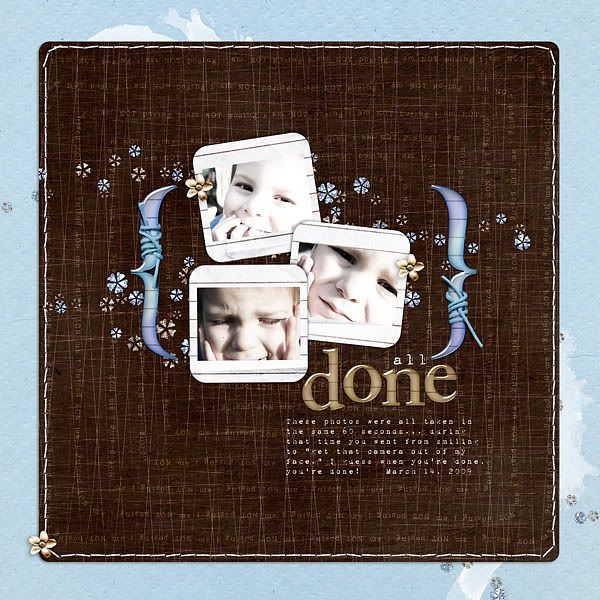 One last bit of fun stuff for today... during my blog hopping I stumbled across this blog called
Paper Possibilities
and loved her gorgeous cards so much, I really wanted to try her method of coloring and blending myself. I've always loved to color, and even now I'll sit and color with the boys (I have my own box of crayons!) So I decided to go on ebay and see if I could find some colored pencils... I put in a bid on a set of 120, but all the other sets were going for more than I had bid and I started thinking that I didn't really need THAT many colored pencils, so I decided to simply purchase a 72 piece set on buy-it-now and not rebid on the higher set. Unfortunately, no one outbid me on the first set, so I'm now the proud owner of 192 colored pencils.
I have now sworn off ebay... way too dangerous for someone so indecisive as I am!! Anyway, as I was browsing through Paula's cards, admiring the eye candy, I came across some really fun stamp companies that I'd never heard of. One of them is called
Elzybells
, and it just so happens that their blog is celebrating it's first anniversary this month with giveaways and a discount on all orders so if you like to stamp, go check it out! I'm loving this set here (which will come as no surprise to anyone who knows me!)
Well, we're off to the wedding of my long-time friend's little brother so that's all for me today... I'll try to get some good photos!
Happy scrapping and crafting!