I've been watching all of the challenges over at the
Hodge Podge blog
for a couple of months now, and finally decided to join in the fun and play. This week's challenge was to scrap a page listing 10 simple pleasures and use a white background. Here's what I came up with: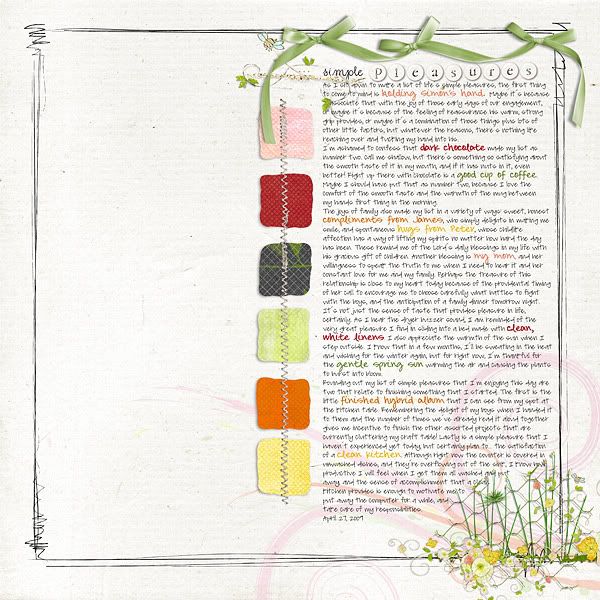 The journaling reads:
As I sit down to make a list of life's simple pleasures, the first thing
to come to mind is holding Simon's hand. Maybe it's because
I associate that with the joy of those early days of our engagement,
or maybe it's because of the feeling of reassurance his warm, strong
grip provides, or maybe it's a combination of those things plus lots of
other little factors, but whatever the reasons, there's nothing like
reaching over and tucking my hand into his.
I'm ashamed to confess that dark chocolate made my list as
number two. Call me shallow, but there's something so satisfying about
the smooth taste of it in my mouth, and if it has nuts in it, even
better! Right up there with chocolate is a good cup of coffee.
Maybe I should have put that as number two, because I love the
comfort of the smooth taste and the warmth of the mug between
my hands first thing in the morning.
The joys of family also made my list in a variety of ways: sweet, honest
compliments from James, who simply delights in making me
smile, and spontaneous hugs from Peter, whose childlike
affection has a way of lifting my spirits no matter how hard the day
has been. These remind me of the Lord's daily blessings in my life with
his gracious gift of children. Another blessing is my mom, and her
willingness to speak the truth to me when I need to hear it and her
constant love for me and my family. Perhaps the treasure of this
relationship is close to my heart today because of the providental timing
of her call to encourage me to choose carefully what battles to fight
with the boys, and the anticipation of a family dinner tomorrow night.
It's not just the sense of taste that provides pleasure in life,
certainly. As I hear the dryer buzzer sound, I am reminded of the
very great pleasure I find in sliding into a bed made with clean,
white linens. I also appreciate the warmth of the sun when I
step outside. I know that in a few months, I'll be sweating in the heat
and wishing for the winter again, but for right now, I'm thankful for
the gentle spring sun warming the air and causing the plants
to burst into bloom.
Rounding out my list of simple pleasures that I'm enjoying this day are
two that relate to finishing something that I started. The first is the
little finished hybrid album that I can see from my spot at
the kitchen table. Remembering the delight of my boys when I handed it
to them and the number of times we've already read it aloud together
gives me incentive to finish the other assorted projects that are
currently cluttering my craft table! Lastly is a simple pleasure that I
haven't experienced yet today, but certainly plan to... the satisfaction
of a clean kitchen. Although right now the counter is covered in
unwashed dishes, and they're overflowing out of the sink, I know how
productive I will feel when I get them all washed and put
away, and the sense of accomplishment that a clean
kitchen provides is enough to motivate me to
put away the computer for a while, and
take care of my responsibilities.
April 27, 2009
I used Creashen's Pure paper pack for the background, and her brand new Sprung kit available only in
The Digi Files
this month. It was a lot of fun to make, and I had forgotten how much I enjoy the journaling process when I'm able to just sit and write as the thoughts occur to me. Anyway, wish me luck!