I felt like I had too many online commitments, so I left two of my teams over the past few weeks, but then one of the applications to a team that I had sent in on a whim was accepted, so I added a new team. Fortunately the requirements are much lighter than the two that I left, so I feel more confident that I'll be able to keep up with everything. It's been so long since I posted that I'll just share some of my favorite pages and projects that I've done over the last month or so. (Pages are linked for credits as always!)
First I want you to know that I have been using ALL those pencils that I bought! As I have time, I've been participating in the sketch challenges on the
Stamping Bella blog
. I'm really enjoying the coloring and blending process, and it's something that I can sit down and do with the boys... they LOVE to color together. The second card is made with digital paper and elements from Sugarplum Paperie's Pretty Little Picnic kit which is available in this month's
Digi Files.
I love being able to resize papers until the pattern is the right size for a card, and then just print what I need.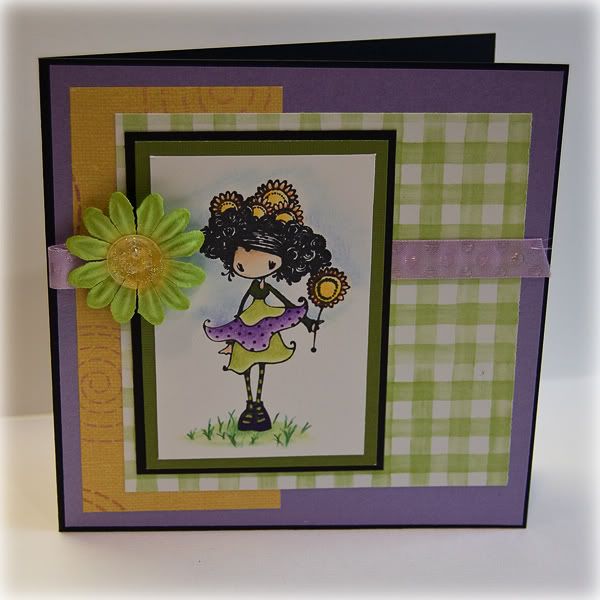 Nicole is putting one of the kits in her Twist collection on sale each Tuesday during the month of July. It's hard to believe that these are already a year old... she was releasing them right around the time that I first joined her team. I never got a chance to play with the Tangerine Twist when it came out, so it was fun to have a chance to scrap with it this week. I mixed it with a few other goodies and this photo of John from last year that's been sitting on my harddrive waiting to be scrapped and came up with this page. I love this picture of John; it seems to perfectly capture the carefree way he goes through life (well, that and his love for cereal. We go through cereal so fast in our house!)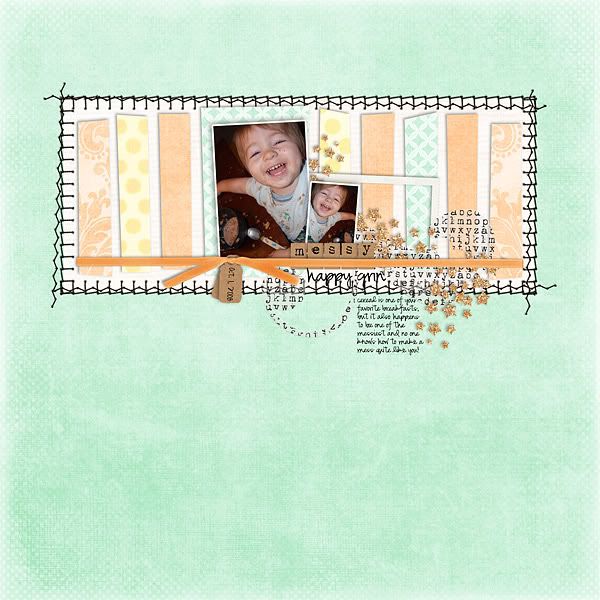 I got to continue guesting for Kate Hadfield this month since she didn't have any guests already lined up. I was so excited that she asked us all to stay, because I'm loving her handcrafted style. These first photos are of Peter and my little brother when he got back from Marine boot camp last summer. Actually, I had accidentally deleted these photos from my memory card, and my brother was able to retrieve them for me so I'm doubly indebted to him for these photos now! The second photos are of James on the beach in Hawaii two summers ago. He loved playing in the sand and the beaches were not nearly as crowded as the Southern California ones are so there was plenty of room to build sandcastles and drive trucks and all those other boy things.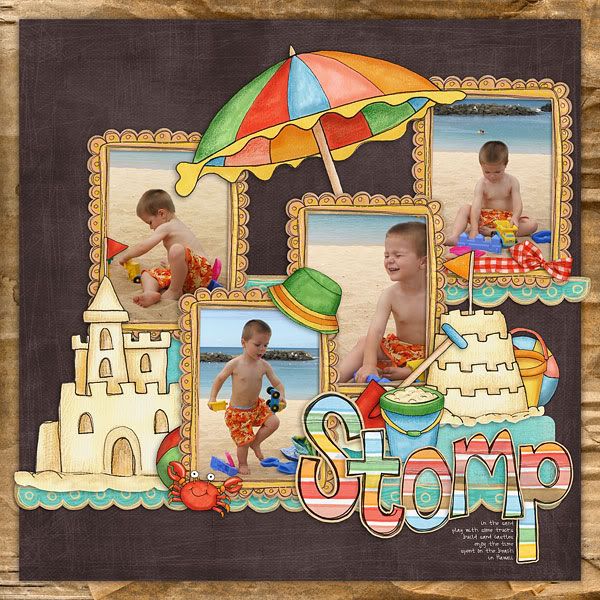 I've done two more projects for
The Hybrid Chick blog
. The first was for the Baby Shower and was a box to put in the back of your car to keep an extra set of clothes, some diapers, etc. That was actually for a giveaway and has since left my house via the ever-faithful postal service and is (hopefully) now residing in someone's trunk! The second project was a quick little album made out of printed digital pages and ordinary lunch sacks. I've linked the finished project pictures to the directions on the blog. There are some really adorable projects that the other girls have done so you definitely should go check them out! One of my recent favorites is these
Hybrid Hairclips
. I know what my nieces are getting as stocking stuffers this year!!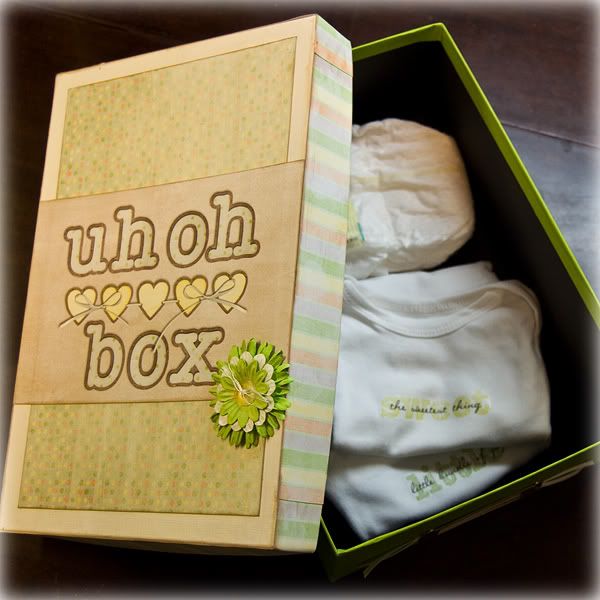 One last hybrid project; the first for my new team at Shabby Pickle Designs. I actually already owned this kit, but hadn't used it yet. This was probably the hardest hybrid project I've done so far because trying to figure out the measurements and how to cover it neatly when I was limited to 8 1/2 by 11 inch paper was very challenging! I think it came out pretty cute though (at least the front... notice there's no picture of the bottom!) and it actually was mentioned on the
GSO blog
yesterday. (That's a good thing Mom, in case you're reading this!) Anyway, now that I've done one, I'm thinking about heading back over to Michaels some more of these boxes to see if it gets easier the second time around.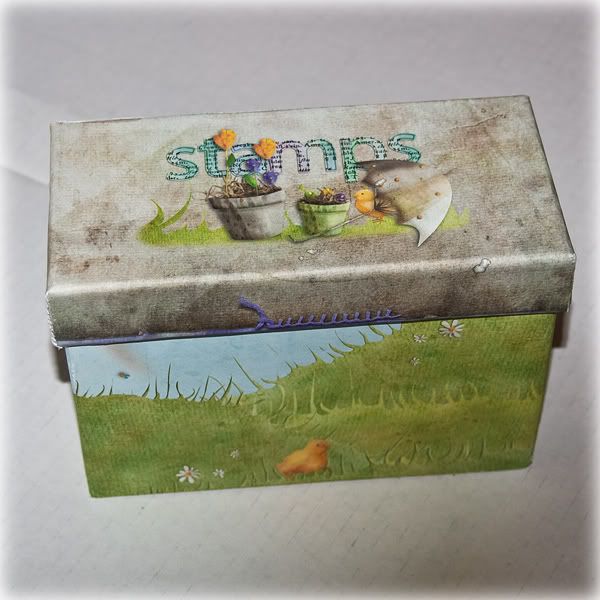 Even though I'm not creating for Funky Playground anymore, I had to show you this page because I love how it came out. Kitty Designs is guesting there this month, and I used her Toy Box kit and made this page with a photo of my sweet Pete. This was definitely outside of my normal scrapping zone, but it was so fun to try to think of creative ways to use the same photo.
Last pages to share, I promise!! These are with Shen's newest products. The first one is just a photo of Simon and me that James snapped in the front yard a few nights ago after we got home from a walk. The camera's pretty heavy and you have to actually look through the viewfinder, there's no display like with a normal point and shoot camera, so I'm pretty impressed that he got both of us (mostly) in the frame! This is the "real" me... no makeup, hair's a mess, and "kick-around" clothes. (Kick-around is my word for anything that you would wear around the house, or maybe for a quick trip to the grocery store, but other than that you wouldn't want to be caught dead in it! I come from a family that's big into making up our own words... like gulch - defined as a pile of stuff that isn't junk, it's just where it's not supposed to be. For instance, "stop gulching up the dining room table; we have to eat there you know." I'm pretty sure it's a real word; look it up!) Returning from my rabbit trail, the second page is photos that I've been waiting for the perfect kit with which to scrap them, and when Shen created Lulu & Rocko I found it. Love, love, love this kit!!
Real life stuff alert: In under a week now, Simon and I are headed to India for two weeks to visit some friends who run a NGO there that does work on university campuses and in slums. The purpose is to work alongside them, but we will get a chance to do a little bit of sightseeing while we're there, so I'm going to do my best to update the blog and post some pictures of our days. Our boys are staying here with my mom and dad, and I know I'm going to miss them like crazy, but I have to confess that the thought of taking them on the 22 hour plane flight also made me crazy!
Well, we're having company for dinner tonight so I suppose I ought to pick up some of the gulch around this place and take the meat out of the freezer! Hopefully I'll be back before we leave on Thursday, but if not, I guess my next post will be from halfway around the world!