I can hardly believe that it's been two months since the last blog post... life has been busy! I started kindergarten with James last month and it's been going surprisingly well. I had started him last year on the book Teach Your Child to Read in a Hundred Easy Lessons but he just wasn't getting it and I had taken too many breaks in between the lessons so we eventually gave up. We started at the beginning again last month and this time it's going great! I can't wait for him to be able to read on his own and if he's anything like me, I'll be prying his nose out of a book whenever I need him to do something else. I haven't had as much time to read as I used to (read: before I had kids) but I did discover that I am able to borrow audio books for free online through a program that our local library has. I just listened to a mystery book called Maisie Dobbs while scrapping, or doing housework, or before falling asleep. In fact, just this week I was extolling to Simon the benefits of listening to a book rather than reading it for, I said, "if I were reading it I'd no doubt be up all night in order to finish it, but when I listen it puts me to sleep." Of course, that very night I stayed up until two in the morning in order to hear the end of the book! So much for that theory.
In September we participated in a park outreach event that the church we are part of hosted. It was fun to meet people in the neighborhood and for the boys to jump in the jump house and get their faces painted. However I came home with three creatures:
this big tiger...
this little tiger...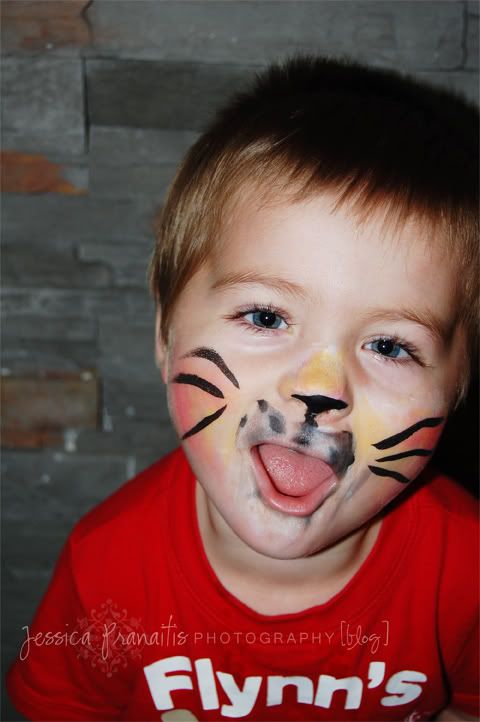 and this furry dog...
who was a stray wandering the streets. We've had her now for a month, watched for signs advertising a lost dog, checked to see if she has a microchip, discussed multiple times whether we really want another dog, and named her Mocha. (Well, actually I named her Mocha, because the only thing better than coffee is chocolate AND coffee.) We're keeping her. The boys love her. She sleeps next to my side of the bed. She fills a little spot in my heart that's been empty since my last pomeranian died. And that's the end of that story.
I'll be back in a bit with some of the crafty things I've been up to; there's a stench wafting from the boys' room that needs to be attended to and I guess it's time to start school for the day...