Last week was crazy hair night at the Awana club that the boys go to. And of course there's a funny story that goes with it! Three weeks ago James came home that Sunday night and told me that the next week was "crazy hair night" at the club. Indeed, I had seen on the schedule for the year that this date was coming up, and so when the next Sunday rolled around, we got James and John up from their naps and trundled them into the bathroom where we applied various gels and hairsprays in an attempt to get their hair to stand straight out from their heads. Their hair was pretty long at this point because I had not cut it on purpose, just for this night, and the effect was pretty impressive I must say. Then we loaded them up into the car and headed off to church. As we pulled into the parking lot, I started looking around (to size up the competition for the craziest hair award) and what should meet my eyes? Normal hair everywhere I looked! That's right... not a single crazy head in sight, except for my two goobers in the back seat. Apparently James was off by one week; NEXT week was crazy hair night. Well, there was nothing to do but swallow my pride and send them in, looking like complete goofballs. We were all practiced up for next week though... and here was the result: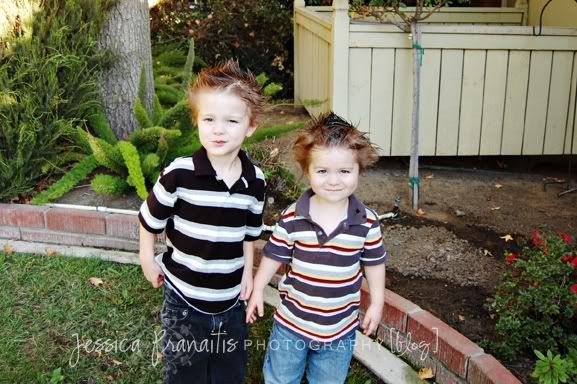 And you know I had to scrap it!!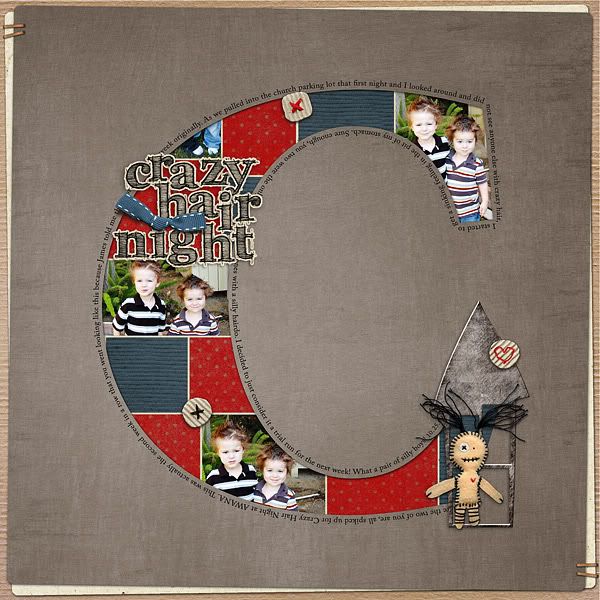 So there ya go! Crazy Hair Night, take 2!!