...love the security of digital scrapping
A few days ago I felt like actually getting out some real paper and quilling. Notice the pink flower in the background that's out of focus?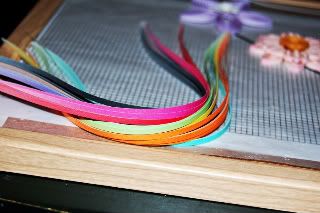 Here's the same flower after I stepped out of the room for a few minutes and then returned:
I guess John thought it would look better with a few of the pieces missing. I can just imagine him standing there plucking off petals, "she loves me, she loves me not, she loves me, she won't be too happy with me, I'd better vamoose!" If that had been a paper scrapbook page, I would've been really upset!
...felt like it might be time to give Peter a haircut
...know I take too many photos
We gave James the first digital camera we bought that no longer works, and he loves to "take pictures" with it. After "snapping" one, he studies the back of the camera intently, then announces, "just one or two more."
...don't find early mornings quite as pleasant as I used to
All my boys wake up a bit disoriented and grumpy!